News Autopromotec 2011
Do you want wash your bike without damage it?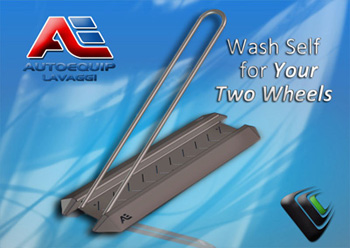 The Autoequip Designers have devised a blocking system for the bikes allowing you or your customers to wash your vehicle in all self-service box. The Stops Bikes can be install quickly on the racks of your self-service box. In addition, the Autoequip have designed a way to not create problems for cars and people.
New look. New style. The Pinguino Box wait YOU!
The Autoequip Lavaggi S.p.A. has created some self-service boxs with a totally new concept to brign a wave of innovation in the aesthetics of the self-service wash. Soon it will be available a poll to allow to Autoequip Designer to understand your opinion and how to make them more attractive.


Click for the photos