EVO 360
The evolution of the tunnel comes to light


Autoequip EVO360 originates from the designed mind of AUTOEQUIP's technicians who have realised unique brushes groups for surprising results.
The revolutionary geometric way the side and roof brushes work allows them to operate for a longer time and with a better wrap compared to the traditional brush groups.
The result is a higher speed of the conveyor chain and, consequently, a higher throughput of vehicles.



Key-word, 100% modular



With Autoequip EVO360 it is possible to create a customised configuration. The various Function Groups available for the different treatment areas can be selected depending on various requirements.
For each functional group there is a specific length zone or this in combination with another function group.
The final length of the construction, and consequently of the conveyor chain, depends on the final configuration of the functions groups.
Translating Lower Side High Pressure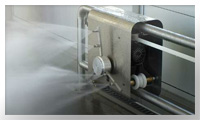 The translating lower side is an attachment highly reccomended to place under the horizontally inclined front brush that it allows to wash the lower side of a vehicle, the fenders and wheels through two rotating heads placed on the right and left of the tunnel that they follow the car.
Robottina Countour High Pressure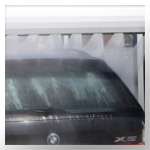 The high pressure robottina contour is an another innovative component of the tunnel Autoequip EVO 360. This accessory has some high-pressure nozzles mounted on a movable beam, which follow the profile of the car leaning toward the front, top and back allowing a high pressure washing with better precision and therefore cleaner.
Contour Drying system on a Slanted Beam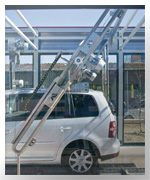 The innovative Contour drying system on a slanted beam allows an intervention aimed especially to rear side of the car allowing a higher drying than previous.
The control with a Finger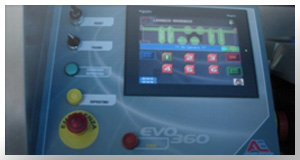 The Touchscreen XBT, included in all plants Autoequip EVO 360 from 2011, allows easy management of the car wash with a new simplified interface and through the use of their language or an other available. If this useful tool does not work the system does not stop because it was designed, also, to work without Touchscreen XBT.

But what are the potential of this equipment?


Two levels of counter cars.
Until six programs customizable.
Indications of failure of the carwash.
Choice of exclusione for each component.
Program of winter discharge.
Fast comand for operator.
Manual comand of all components.
Three levels of access for operator, repair man and manager.
Multilanguages.
Management chain speed.
Comand for opening and turn off of the car wash.
Technical Characteristics
Completely modular construction and technology
Width of the construction: 4000 mm (excl. outfit elements)
Height of the construction: 3200 mm (excl. roof and/or outfit elements)
Maximum washing height: 2200 mm
Cabinet with electrical panel, with integrated PLC
Vehicles advancement control through photocells and software
Washing capacity of max. 70 vehicles/hour (chain speed can be regulated from 1 to max. 8 meter/minute)